It was 2011 when I attended my first Mike Langley retirement party. The festive farewell took place at a restaurant in Woodstock, a couple of miles from his office at Oxford Airport, where he'd just retired as Commercial Director for Oxford Aviation Academy. Mike Langley retirement parties were always enormous fun and, as befitted the generosity of the man, numerous…
But maybe I'm getting ahead of myself.
Mike was born on February 15, 1944, in Darlington to parents Edna, who was a secretary at British aviation manufacturer De Havilland, and Joseph, a Flight Lieutenant in the RAF and later a primary school teacher. An only child, he grew up in Darlington before the family moved south to Hatfield, Hertfordshire and he started at Welwyn Garden City Grammar School in 1951. The move took the Langleys next door to the De Havilland aircraft site and after finishing school he joined the 2203 Hatfield and De Havilland squadron Air Cadets.
His love of flying was started by his father, who had worked with Sunderland flying boats in the Second World War, and he began to forge his own career by training as a navigator with the RAF. A 36-year career in the military followed which would see him rise to the rank of Wing Commander and serve all over the world, including Cyprus, Hong Kong, Northern Ireland and RAF Benson. He met his future wife Anne Day in a pub in Cirencester and married her in Oxford on 7 August 1965 at the register officer in St Giles' while based at Benson.
His career continued to take him all over the world at various RAF bases, including RAF Akrotiri in Cyprus, RAF Leeming in Yorkshire and RAF Upavon in Wiltshire. He moved to Hong Kong as the MA to the Commander-in-Chief of the British Forces and then to RAF Antrim, Northern Ireland. Towards the end of his military career, he was a qualified instructor and senior director at Bracknell Military Staff College and Shrivenham Royal Military College of Science.
It was in 1997, having retired from the Royal Air Force, that Mike moved into the world of commercial aviation training, becoming Head of Ground Training for Oxford Aviation Training (as it was then named). Concurrently, Mike gained an MSc in Corporate Management at Cranfield University before going on to hold a variety of senior positions during his time at the training academy, providing ample opportunity for retirement parties as he moved up the seniority ladder. Mike oversaw the training of many hundreds of pilots during his tenure at Oxford and played an integral role in the development of numerous new and innovative training programmes, setting the benchmark for commercial flight training methodology. In 2011, Mike was awarded an Honorary Doctorate by Buckinghamshire New University for his contribution to the development of pilot training.
A tough lobbyist on the behalf of cadet pilots, Mike sat on a number of industry/regulator committees and was instrumental in bringing about much needed changes to how commercial flight training was regulated and delivered, as well as getting airlines to become more involved in their future employees' training. If this was undoubtedly a thankless and frustrating task at times, Mike nonetheless achieved much for his students' welfare and employment prospects, armoured with immense charm and biting wit, which he would bring to bear on unsuspecting senior regulators and airline CEOs, often enlivening otherwise turgid committee meetings and industry conferences.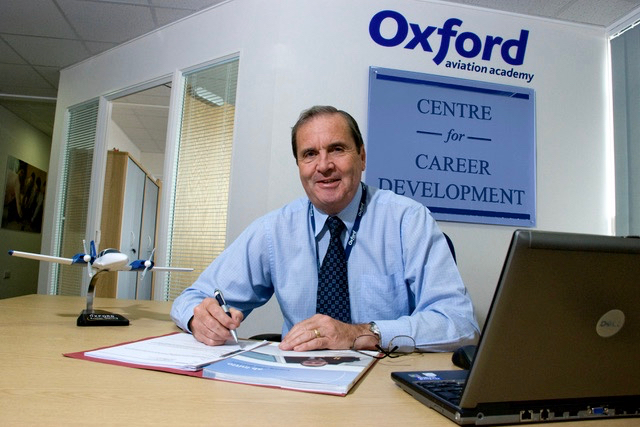 Mike's fifth(?) official retirement in 2011 was short lived, of course. His unparalleled experience in the industry, coupled with his commitment and enthusiasm, meant that he could never stay away long and after a further retirement from the rebranded CAE Oxford Aviation Academy in July 2014 Mike became a consultant for community interest company Kura Aviation, playing an integral role in developing airline relationships and eventually becoming Chair of Kura's Advisory Board.
It was during this time that Mike also took on the role of FTN columnist, as clearly he didn't already have enough on his plate. After being cajoled by the publisher for a number of years, Mike finally relented and agreed to write a column for FTN, entitled The Flight Training Evolution, which explored the history of flight training. Mike wrote his monthly column until last year when ill health took hold and he was forced to hang up his writer's pen. Mike had been diagnosed with terminal cancer.
Kura Aviation founder Isobel Hall – Mike's close friend and long-term colleague – established the Mike Langley Foundation in his honour, launching it at a fund-raising dinner at the end of November 2016. Although extremely ill by then, Mike nonetheless defied expectations and attended the launch in person, and even gave an impromptu speech which was inspiring and humorous in equal measure, a fitting leitmotif for his career and personal life.
The Mike Langley Foundation is a charitable trust that aims to help those with a dream to become a commercial airline pilot, specifically for those with the passion to succeed but without the financial means. Through funding initiatives and scholarships, the Foundation aims to widen access to the aviation profession: "Mike's dream was to fly, and he achieved it. His ambition was to provide the very best flight training to pilots and airlines across the globe, and he succeeded. He was determined to make to make a difference and through experience and wisdom, he certainly did that. The extraordinary level of respect he gained in doing has resulted in the aviation industry coming together and creating The Mike Langley Foundation."
For those who were fortunate enough to know Mike it is undoubtedly his charm and humour that feature strongest in our cherished memories of him. A 36-year career in the Royal Air Force had clearly given Mike a healthy disrespect for officialdom and pomposity, which he delighted in pricking at every opportunity. Mike's son Jeremy gave a perfect demonstration of his father's authority-poking wit when he recalled at Mike's funeral the tale of a time during his RAF career time when his office was inspected to determine whether the temperature was within permitted working limits.
Following the inspection, which had clearly been a lip-service paying affair only, Mike wrote to his Commanding Officer: "As you requested, DOE yesterday inspected this office to determine whether the temperature was within limits. Although the thermometer on my desk read 58 degree F, the DOE men, by pinning their thermometer halfway up an internal wall, managed to obtain a reading of 61 degrees F. Such a temperature, they stated, was within their limits and off they marched, apparently satisfied.
"I have given some thought as to how I can reorganise my life to fit in with where the DOE measure the temperature and have concluded that the only solution is to have my desk and chair mounted halfway up the same wall that the temperature is measured on.
"Accordingly, I have drawn-up a rough plan of what is required, and a copy is attached. It is requested that the necessary work services are put in hand as a matter of urgency."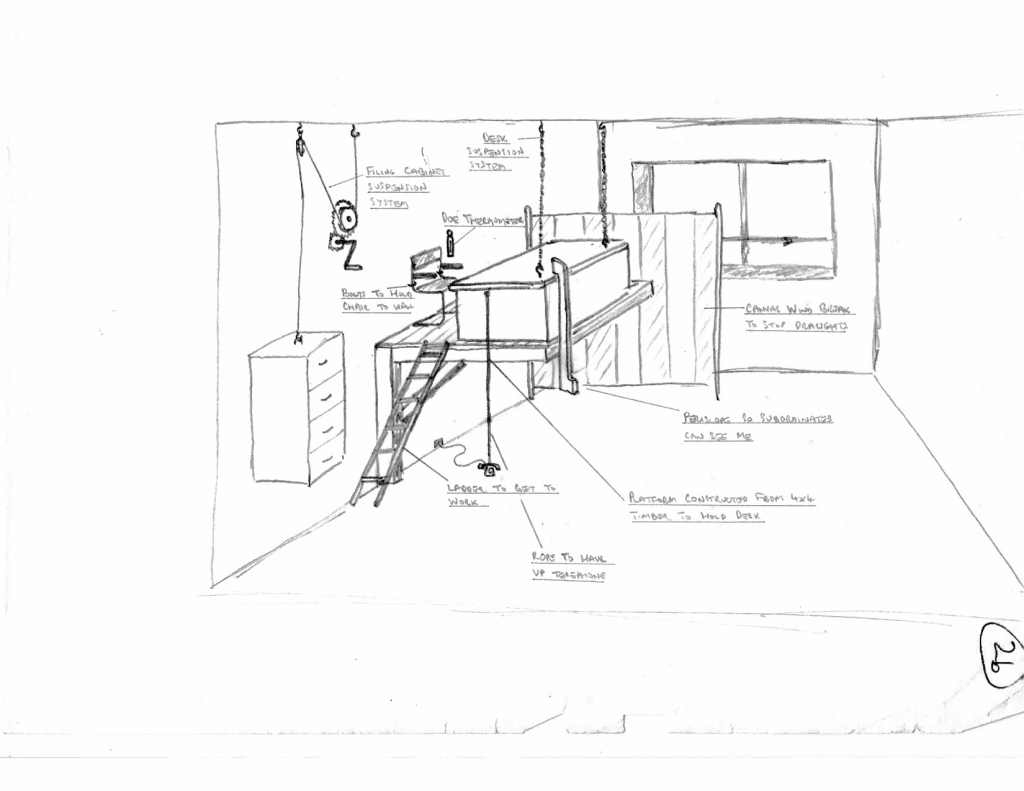 Mike died on 29 April 2017 following a battle with cancer and is survived by his wife Anne, three children, Sophie, Andrew and Jeremy, seven grandchildren and three great-grandchildren. Amongst his other legacies are over a third of a century serving his country in the RAF, the enormous affection and respect of his friends and colleagues throughout the aviation business, and the considerable advancements he bought to the professional flight training industry – improvements which will continue to benefit generations of new aviators who will never have the good fortune to know the man who helped make their career path a reality.
Jeremy Diack