Boeing has released the 2018 update of its annual Pilot and Technician outlook, forecasting that the global aviation industry will need 790,000 pilots over the next 20 years. Boeing say that this figure represents double the current pilot workforce and the figure is the most significant demand in the outlook's nine-year history.
In part, the leap in projected demand has occurred because the Boeing forecast now includes data from the business aviation and civil helicopter sectors for the first time, which has added 155,000 new pilots to the forecast. Demand is also being driven by an anticipated doubling of the global commercial airliner fleet — as reported in Boeing's Commercial Market Outlook — as well as record-high air travel demand and a tightening supply of new pilots.
"Despite strong global air traffic growth, the aviation industry continues to face a pilot labor supply challenge, raising concern about the existence of a global pilot shortage in the near-term," said Keith Cooper, vice president of Training & Professional Services, Boeing Global Services. "An emphasis on developing the next generation of pilots is key to help mitigate this. With a network of training campuses and relationships with flight schools around the globe, Boeing partners with customers, governments and educational institutions to help ensure the market is ready to meet this significant pilot demand."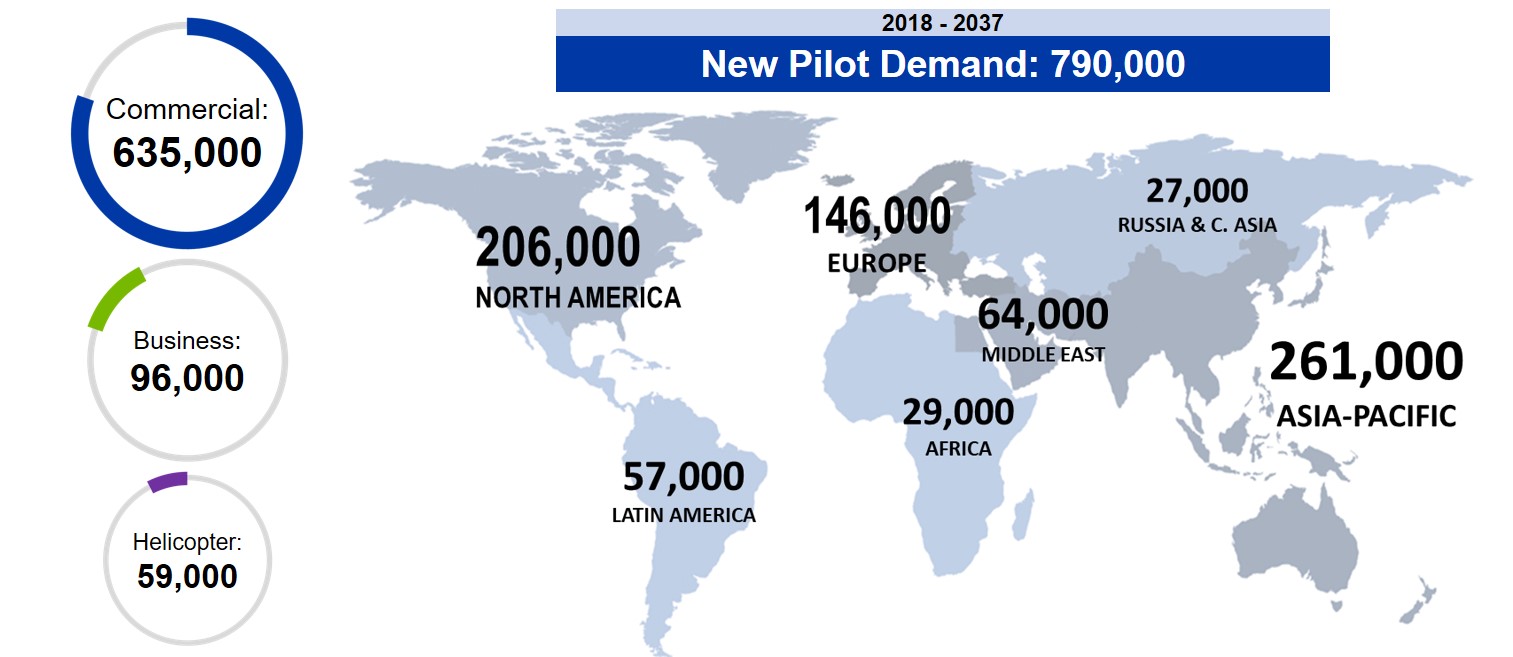 The demand will stem from a mix of fleet growth, retirements, and attrition. Meeting this extraordinary demand will require proactive planning and collaboration within the global aviation industry. As several hundred thousand pilots and technicians reach retirement age over the next decade, educational outreach and career pathway programs will be essential to inspiring and recruiting the next generation of personnel.
The aviation industry will need to adopt innovative training solutions to enable optimum learning and knowledge retention. Immersive technologies, adaptive learning, schedule flexibility, and new teaching methods will be needed to effectively meet a wide range of learning styles. The growing diversity and mobility of aviation personnel will also require instructors to have cross-cultural, cross-generational, and multilingual skills to engage with tomorrow's workforce.
The Boeing report says that as pilot labour supply has continued to tighten around the world, regional airlines that have relied heavily on recruiting pilots from outside their home locations are increasingly seeking to recruit, train, and develop locally-sourced pilots. Cadet programs that train aspiring pilots from zero flight hours to being an operationally ready first officer have increased in popularity as airlines look to provide career pathway programs and fill future pilot pipelines.
According to Boeing, over the next 20 years, the Asia Pacific region will lead the worldwide growth in demand for pilots, with a requirement for 261,000 new pilots. North America will require 206,000, Europe 146,000, the Middle East 64,000, Latin America 57,000, Africa 29,000 and Russia/ Central Asia 27,000.
Boeing also forecast that despite the commercial pilot demand forecast holding nearly steady, maintenance technician demand decreased slightly from 648,000 to 622,000, primarily due to longer maintenance intervals for new aircraft.
Forecast demand for commercial cabin crew has increased slightly from 839,000 to 858,000, due to changes in fleet mix, regulatory requirements, denser seat configurations and multi-cabin configurations that offer more personalized service. In addition, 32,000 new cabin crew will be required to support business aviation.