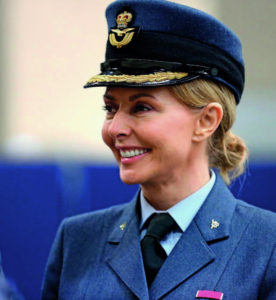 TV personality Carol Vorderman's attempt to become the ninth woman to fly solo around the world is being filmed for a Channel 5 TV documentary this summer.
Following in the footsteps of pioneering female aviators, Carol will be landing in many of the same locations as they did as she travels through Europe, across Asia, north to the easternmost point of Russia, across the Pacific Ocean to the United States and finally through the frozen north back to the UK.
Carol only started flying in 2013, and has gained her private pilot's licence, plus an Instrument Rating and Multi-Engine Piston rating. Her aircraft, a Diamond DA42 light twin, is nicknamed Mildred, after the female British aviator Mildred Bruce from the 1930s.
Commenting on her up-and-coming challenge, Carol said, "My life's dream has been to be a pilot. I fought to get to Cambridge University as a comprehensive kid on free school meals in the 70s. I was the first child from my town to get there. My drive was always because I wanted to be a pilot but the RAF wouldn't train women as pilots back then. We were a poor family so flying lessons were out of the question and my dream was put on hold.
"Only when I got into my 50s have I had the proper opportunity as a single parent to put everything else on the backburner. I've given up a lot of TV, spent the last few years training and passing difficult flying exams and committing to this passion which builds inside me with every flight.

"It has been, and will be, a journey with tears and doubts and I still have huge areas of self-doubt and massive inexperience but I am going to push through it step by step. I WILL DO IT."
The journey will be screened as a three-part series on Channel 5 with the working title Carol's Incredible Solo Flight Around The World.
Carol became the new Ambassador for the RAF Air Cadets in November 2014 and is first female honorary Group Captain ambassador to the organisation.