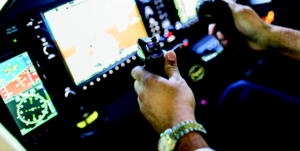 Irish airline CityJet has selected CAE for the delivery of a new EASA ATPL integrated training course, as part of the 'Climb High Mentored Cadet Programme'. Ten cadets will begin training by the end of 2016 at CAE Oxford Aviation Academy in Oxford, UK and Phoenix, Arizona (USA). Upon completion of their training, the selected candidates will be employed by CityJet. Headquartered in Dublin, CityJet's main base is London City airport from where it operates 480 flights a week to UK and other European destinations.
CityJet currently has a fleet of 18 Avro RJ85 aircraft, however in May it took delivery of its first SuperjetSSJ100 aircraft, becoming the first European airline to operate the type. CityJet will lease 15 Superjet SSJ100 aircraft with an option for an additional 16. The deal is worth over 1 Billion USD, including option and after-sales services.
Pat Byrne, Executive Chairman of CityJet, said: "The delivery of our first Superjet SSJ100 is an important milestone for CityJet as we begin our fleet renewal programme. This is a fantastic aircraft and we look forward to introducing our customers to its high levels of comfort and efficiency in the coming years".
SuperJet International is a joint venture between Sukhoi Civil Aircraft Company and Finmeccanica Company of Italy. The ceremony was held in Venice at the SuperJet International's premises where the first two Superjet SSJ100s in the CityJet livery were unveiled. The airline expects take delivery of three aircraft in 2016, with the remainder from 2017 onwards. The inaugural aircraft unveiled today is expected to be delivered to Dublin early in June with the second arriving in mid-June. The CityJet aircraft is in the 98-seat configuration and CityJet crews are being trained at the Training Center in Venice.
CAE Oxford Aviation Academy is the largest ab-initio flight training network in the world with capacity to train more than 2,000 cadets per year across eight global flight academies. The range of programmes includes CPL, ATPL and MPL training routes, and training locations include Australia, Belgium, India, the Netherlands, the United Kingdom and the United States. The cost of the 'Climb High Mentored Cadet Programme', which includes an integrated ATPL and a degree in Air Transport Management, is 107,000 Euros, CAE say bespoke bank loan funding is available for qualifying candidates.
Details of the Climb High Mentored cadet programme and application procedure can be found at: http://caeoaa.com/CityJet.