Not looking a day over, well, let's say 50, 22nd May saw the 70th anniversary of the first flight of the DHC-1 Chipmunk. Conceived as a replacement for the venerable Tiger Moth and featuring such mod-cons as an enclosed cockpit, flaps and even brakes, there must be thousands (maybe tens of thousands) of active pilots who – like the Duke of Edinburgh in 1952 – took their first flights in a Chipmunk.
Although best known as an RAF post-war trainer (the RAF took 735 of the 1300 or so built) the 'Chippie' also saw military service in the land of its birth – Canada – as well as many European, African and Middle East air forces. The RAF pensioned-off its Chipmunks in the mid 1970s (although they still operate a couple to keep their vintage flight pilots current on tailwheel aircraft) and while a small number have spent all their working lives as civilian aircraft, the vast majority of Chippies still flying today are ex-military machines. Even now, a Chippie is a relatively common sight around the airfields of the UK in particular (an estimated 500 are still active world-wide) and if you ask any Chippie pilot what is so nice about this aircraft it is a racing certainty that they will reply 'the handling qualities'. Not for nothing is the Chippie sometimes described as 'The Poor Man's Spitfire'.
So, to celebrate this significant birthday, 49 Chipmunks gathered at Old Warden (home of the Shuttleworth Collection) on 22nd May. Highlight of the gathering must have been a very special formation flypast by 19 of those aircraft in a very suitable formation.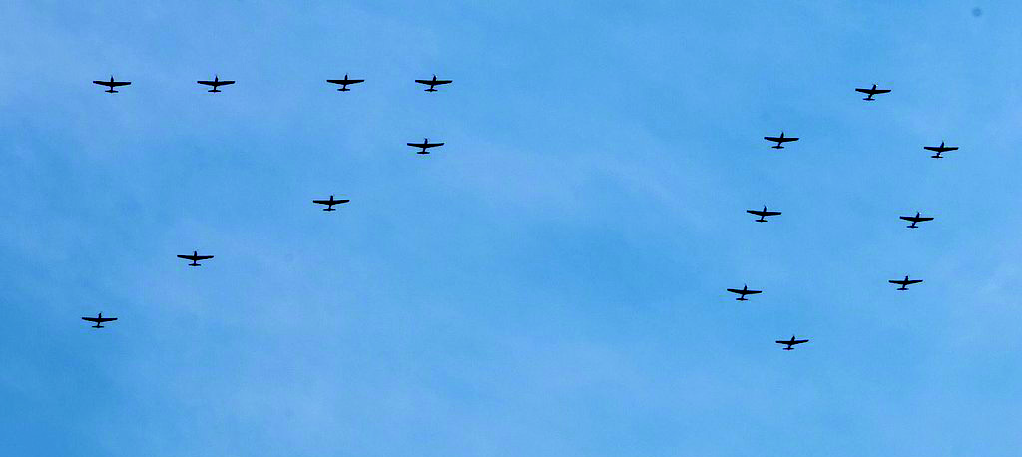 Our congratulations to 'Mr Chipmunk' Rod Brown, and formation and Chipmunk guru Robert Miller, who worked-up and organised the 70th formation. And if you want to know more about this fabulous aircraft (and future classic investment – you heard it here first) you are strongly advised to check out Rod Brown's superlative work 'DHC-1 Chipmunk – The Poor Man's Spitfire'. Available at all good bookshops, as they say.