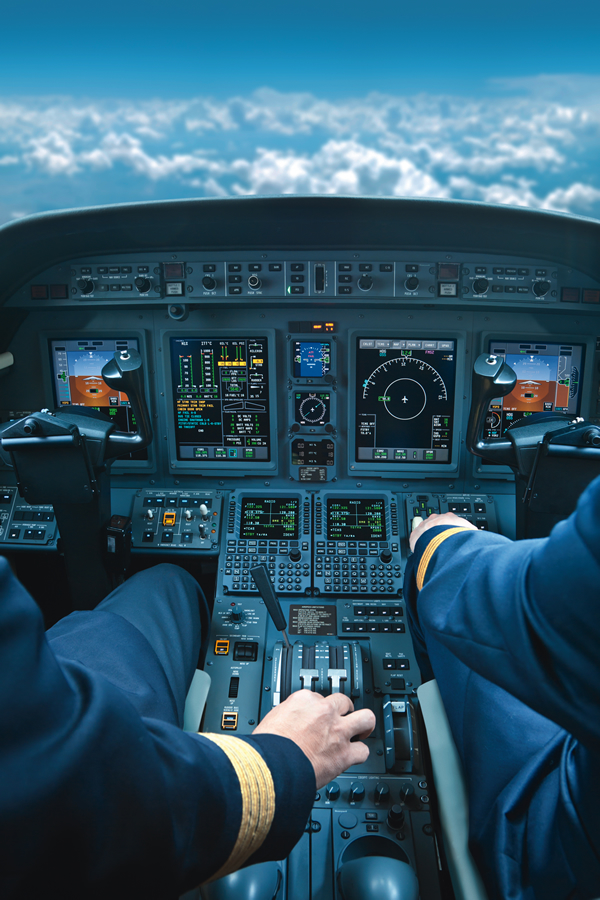 On the morning of the 24th March 2015 the scene on board the Germanwings Airbus A320 was about as normal as a scheduled airline flight can be. The flight had departed from Barcelona around 30 minutes earlier and just reached cruising altitude as it headed for Dusseldorf. Approaching the French coast the captain left the cockpit, in all probability for a toilet break.
It was at this moment that the co-pilot set the autopilot for a descent to just 100ft. Over the next 10 minutes or so the co-pilot ignored calls from air traffic control and repeatedly denied all attempts by the rest of the crew to gain access to the cockpit. The Cockpit Voice Recorder (CVR) picked up no words from the co-pilot, just the sound of steady breathing right up to the moment of the impact in the foothills of the French Alps, in which all 144 passengers and six crew died.
The accident investigation quickly established that the crash was caused by the deliberate actions of the 27 year-old co-pilot. It has also been revealed that he had a history of mental illness and had recently been told not to fly by a doctor – information which was not relayed to the airline. In the aftermath of the crash and the investigation into the background of the co-pilot, the European Aviation Safety Agency (EASA) is proposing new rules on the medical testing of pilots. However many aviation medical professionals fear these proposals could prove to be unworkable in practice.
For many years the subject of mental health was almost taboo both in society in general as well as in the pilot community. Rules have been in place for decades that require pilots to not fly (and if necessary declare themselves to the authorities) if they are unfit to fly for whatever reason; however many pilots were reluctant to take such action in the case of mental, as opposed to physical, conditions. One common concern was that such a report would permanently end a pilot's career. So it was that mental health problems remained unreported and possibly untreated for years until an incident or concerns from worried colleagues caused the intervention of the airline or aviation authority.
In recent years, attitudes to mental health have become more enlightened. According to MIND, the UK mental health charity, about one person in four will experience a mental health problem each year with anxiety, depression, or a combination of both, being the most common problems. Furthermore, around 17% of people will experience suicidal thoughts in their lifetime.
| Rates of mental health problems | |
| --- | --- |
| Source: The Health & Social Care Information Centre, 2009 | |
| Depression | 2.6% |
| Anxiety | 4.7% |
| Mixed anxiety and depression | 9.7% |
| Phobias | 2.6% |
| OCD | 1.3% |
| Panic disorder | 1.2% |
| Post traumatic stress disorder | 3.0% |
| Eating disorders | 1.6% |
Although so-called pilot suicide/murder is exceptionally rare, there has been a growing recognition that airlines can improve safety and fulfil their 'duty of care' obligations – as well as reducing long-term sickness absence – by a proactive approach to the well-being of their pilots. Many major airlines now have some form of 'Peer Support Program'. Typically such a program means that a pilot can be referred to colleagues first, rather than management or doctors, and such referral can come from the pilot him or her-self, as well as work colleagues or family. Such a referral takes place in a 'safe space' and those running these programs report a high success rate in returning pilots to flying duties. But even as such schemes are becoming more widespread and advanced, EASA's reaction to the Germanwings crash is being questioned, with Dia Whittingham, chief executive of the UK Flight Safety Committee, telling delegates at a recent RAeS conference in London that "EASA is rushing headlong into legislation – is that the right thing to do?", whilst acknowledging that it is probably too late to stop the 'speeding train'.
EASA proposals for new checks on pilot's mental health include a requirement for psychiatric and psychologic evaluation of pilots during the initial and recurrent class 1 medical examinations (see box). Additionally, and in part because alcohol and drug abuse are often related to mental health problems, there are also calls for mandatory drug and alcohol testing during the initial class 1 medical examination as well as random testing of line pilots. There is also a plan to make operators themselves liable for ensuring that new pilots have undergone a psychological assessment before commencing line flying. The question is, if these checks become law (as seems likely), how will they be carried out in practice?
EASA Proposals
Implementing Rules amending MED.A.010 and MED.B.055 to include:
the definition of Medical History.
enhanced psychiatric evaluation as part of initial class 1 medical examination.
Psychiatric evaluation for applicants with an established medical history and clinical diagnosis of a psychiatric condition.
Implementing Rules amending MED.B.055
to mandate drugs and alcohol screening as part of initial class 1 medical examination.
New Implementing Rules in CAT.GEN.MPA.175
the operator shall ensure that a flight crew has undergone a psychological assessment before commencing line flying to identify psychological and behavioural factors which may interfere with the safe operation of an aircraft.
Speaking at a Royal Aeronautical Society (RAeS) conference in London recently, Professor Robert Bor – an aviation psychologist – suggested that there are probably only about 12 psychologists in Europe with the appropriate aviation experience to carry-out the type of enhanced psychiatric evaluation being proposed by EASA. He also raised fears of increased false positive/negative results and concerns that pilots could lose their careers through inappropriate testing. He said that many of the common GP tests are easy for a pilot to fake and not appropriate for the flying (as opposed to general) population. He forecast that such tests would fail to detect 30-50% of cases and that a proper clinical interview would be essential.
Also at the RAeS conference Nikki Heath, director of Symbiotics Performance Solutions, admitted to being concerned about what the industry is asking the medical profession to do, saying that a proper assessment is typically a four hour process. She also raised the issue of what exactly is 'normal' for the pilot population? She described clear differences in the pilot profiles required by various employers, with different airlines tolerating different behaviours in their pilots. She said that even assessors working for a single airline might require different standards. She also raised a concern that has been echoed elsewhere in the airline training industry, namely that of more and more youngsters demonstrating signs of narcissism (an egotistical preoccupation with oneself, demonstrated through vanity or egotistic admiration of one's own attributes). She posed the question of what to do with a young person who presents in an immature fashion and may have yet to develop, and what level of feedback should be offered to a candidate. She also offered the insight that candidates do not always help themselves, citing the case of a candidate for a command position who undertook an assessment interview whilst obviously drunk.
While Europe moves towards mandatory testing of mental health, in the USA – where peer support programs for pilots were first developed – FAA Administrator Michael Huerta said that US airline pilots will not be forced to undergo formal psychological testing. Aviation Medical Examiners (AME) are being given training to spot mental health issues, but Huerta said testing can only capture a pilot's mental state at the time of the examination. Instead, the FAA is encouraging the development of more programs to reduce the stigma of mental health issues to give pilots the confidence to self-report. Huerta was reported by US aviation media as saying, "We need to do more to remove the stigma surrounding mental illness in the aviation industry so pilots are more likely to self-report, get treated and return to work."
Meantime in Europe, the growing concern amongst aviation medicine professionals is that poorly thought-out legislation in reaction to the Germanwings crash will, at worst, lead to inappropriate and even ineffectual testing or just a 'tick-box' approach to the issue. It also unclear what is being done about national legislation regarding patient confidentiality which can prevent doctors telling an airline that a pilot is unfit to fly – a key issue in the Germanwings crash. EASA have recommended that "national regulations [should] ensure that an appropriate balance is found between patient confidentiality and the protection of public safety". However, any legislation to enforce this aim looks like a distant prospect, even while new psychiatric evaluation rules are fast-tracked.