The popular 'Cotswold Airport Aviation Scholarship', which launched back in 2007, has opened for 2018 applications, with a closing date on Friday 30th March. Twenty successful applicants will be invited to the interview stage of the application process on Saturday 21st April. Following the interviews, the 10 final scholars will be selected for the programme, which runs from Monday 6th to Friday 17th August (weekdays only).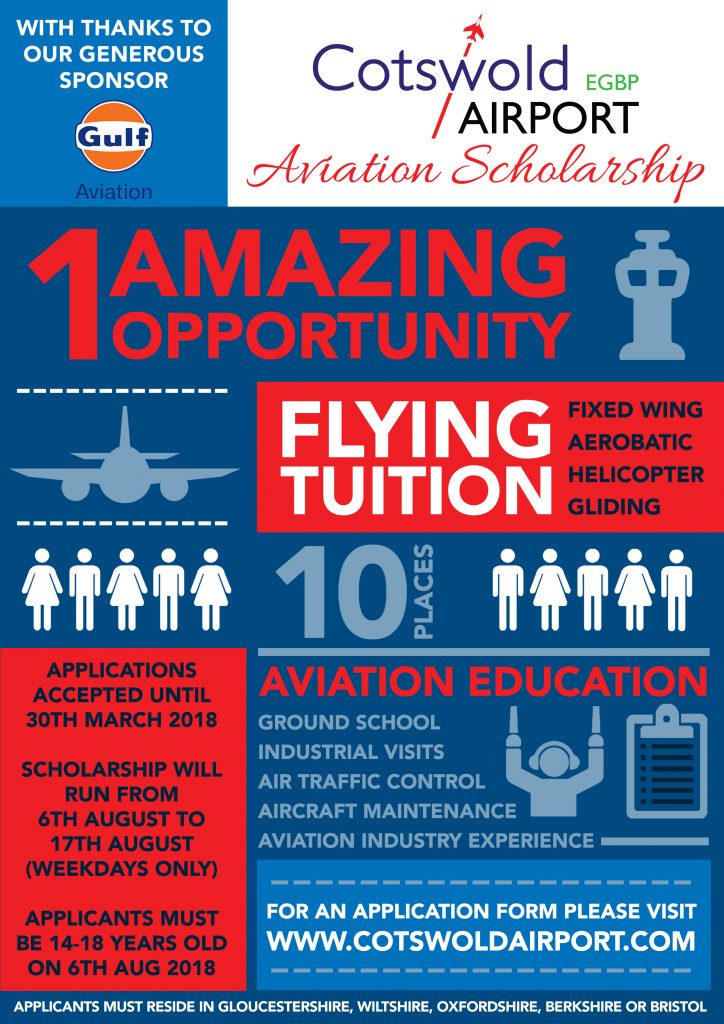 This unique industry scholarship programme has changed the lives of many young people over its ten-year history, seeing scholars embarking on careers in aviation, from engineering to commercial flying. The programme was founded by Cotswold Airport owner, Ronan Harvey, an ex-RAF engineer, aviation expert and successful entrepreneur, who wanted to open up the broad and exciting world of aviation career opportunities to young people from the local area.
The scholarship programme has been significantly enhanced, with the generous addition of a sponsorship package from Gulf Aviation. 2018 marks the second consecutive year that Gulf Aviation has supported this initiative, enabling the organisers to include additional aviation industry site visits such as Bristol International Airport; an increased number of loggable flying hours; and drone tuition with on-site UAV Academy.
2018 also marks the eleventh year of the Cotswold Airport. In celebration of this anniversary, the best performer of this year's scholarship will be donated a substantial sum towards their PPL (Private Pilot's Licence) at Cotswold Airport, funded by the scholarship programme.
Mr Harvey`s daughter, Suzannah Harvey, CEO of Cotswold Airport said: "We are thrilled to be running our Aviation Scholarship programme in what is going to be a very special and significant year in the history of aviation and the military. The generous sponsorship from Gulf Aviation will make it possible to continue to enhance the programme for all of the youngsters who take part. I would encourage any young person with an interest in a career in aviation to apply for a place; not only is it a fantastic experience but it really helps the students take their first steps towards what can be a very rewarding career in aviation, whilst allowing them to build contacts and make new friends at the same time."
The Cotswold Airport Aviation Scholarship programme runs over two weeks and is packed with informative and educational site visits to companies such as Rolls Royce and RAF Cosford; and flying in fixed wing, aerobatic and jet aircraft, gliding and helicopters.
More details can be found at: www.cotswoldairport.com/cotswold-airport-aviation-scholarship