No – we haven't regressed to fairy tales (at least, not just yet), but rather a modern fable demonstrating the current buoyant state of the airline business.
The Sleeping Beauty in question is an Airbus A340-600 belonging to Virgin Atlantic, named 'Sleeping Beauty' and registered, appropriately enough, G-VNAP. They're not short of imagination at Virgin Atlantic, it's one of the reasons they're one of our favourite airlines [full disclosure – that and the amount of air miles some of our staff have accumulated with them].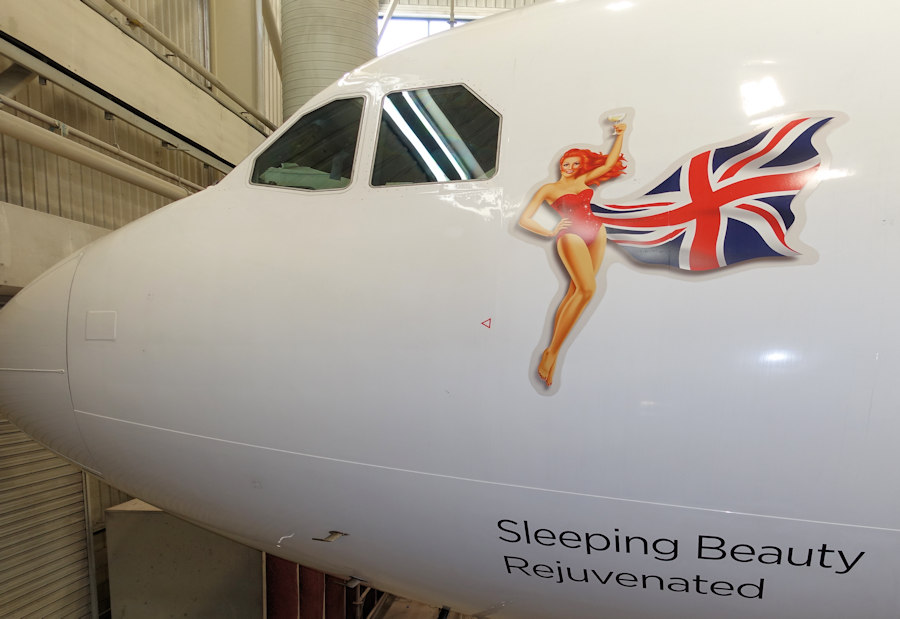 'Sleeping Beauty' entered service with VA in 2005 and no doubt flew a zillion air miles until, in 2015, she went into storage in Tarbes, south west France. Tarbes, and a sister base in Teruel, Spain, are becoming the European equivalent of Mojave in California where aircraft go for long term storage and with a capacity for up to 250 stored aircraft between them, she no doubt had plenty of company.
In some cases, these aircraft are destined not to fly again, but more happily late last year Virgin decided they wanted their sleeping beauty back and the handsome prince awoke her with a kiss – or rather a team of engineers got her airworthy again, before a trip to Manchester for a full re-spray. So it is that the Virgin Sleeping Beauty has been awoken, hopefully to ply the airways for a few years to come. Virgin Atlantic CEO, Craig Kreeger, said "We hope we've created something our people can feel proud of, which is also eye-catching and fun for our customers."
However, how long 'sleeping beauty' will enjoy her second lease of life is unclear. It's likely that she's been bought back into service to help cover a shortfall in serviceability of the airline's 787 fleet, caused by problems with their V1000 engines. Of course, Virgin Atlantic used to have a policy of only operating four-engine aircraft on its long-haul routes and even painted some of its aircraft with the slogan '4 engines 4 long haul'. (Incidentally, we're reminded of the story of a senior Boeing engine who was once asked why he would only cross the Atlantic on a four-engine aircraft; "Because Boeing don't make any five engine aircraft" was his caustic reply). It's also worth noting that Virgin Atlantic have finally formally announced the cancellation of their oft-postponed purchase of A380s which is a bit of a shame, as we'd like to have seen what they would have done with that space, especially nearer the pointy end.
Meantime, the A340s soldier on, so should you see 'Sleeping Beauty' at an airport sometime, it might be worth reflecting that her name has turned out to be more appropriate than anyone could have imagined when she first entered service. Of course aeroplanes don't have souls, but they often have stories, and that's no bad thing in an age and industry which is sometimes less romanticthan it used to be.