Aeros Flight Training, a major UK-based modular flight training school, has opened a new base at Doncaster Sheffield Airport to facilitate the expansion of the company's operations.
The move will allow Aeros, part of the renamed Aeros Global Ltd group, to establish itself as a major flight training organisation in the north of England, a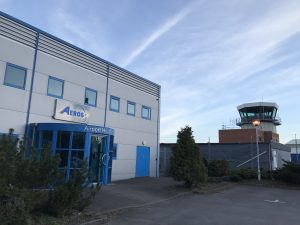 s it looks to strengthen its position as a leading modular school.
Aeros say that with Doncaster Sheffield Airport offering the full range of services required for commercial training, such as radar and ILS approaches, the new facility will mean that they can offer high-quality airline pilot training, from PPL to MEIR, at a large international airport.
The opening of Aeros Doncaster also coincides with the recent consolidation of the company's Midlands bases into a new headquarters at Coventry Airport, with Aeros Wellesbourne closing earlier this year due to the airfield's uncertain future.
Nick Dunn, managing director at Aeros, commented: "The next few months are set to be really exciting for Aeros as we look to continue the expansion of our flight training operations.
The new base at Doncaster Sheffield Airport will play an important role in strengthening our current position as the leading modular flight training school in the UK and will help us to further develop the high-quality flight training that we offer."