Cotswold Airport, Kemble, has announced the appointment of Christian Ackroyd as the new Airport Manager. Christian joins Cotswold Airport from the Army Senior Leadership Team with REME Regiment, where he served for 20 years.
Christian's record of active service included Bosnia, Kosovo, twice in Iraq and twice in Afghanistan. He also served in Canada, Poland and the US for operational training, including a two-year exchange with the US Army. He also holds an engineering degree and two masters in defence studies and strategic leadership management.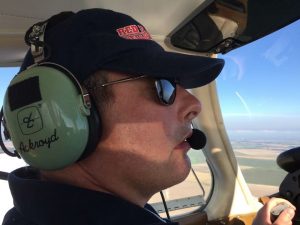 Christian's role at Cotswold Airport is to streamline the operational development of the aerodrome, with a particular focus on achieving a GNSS approach to enable increased operational capability in adverse weather for both General Aviation operations and commercial airliners –Kemble has an active scrapping and 'parting' operation for airliners at the end of their service life.
The airport say that Christian will be driving diversification of aviation-related activities and is developing a five-year strategic plan to grow this sector of the business. Christian, who has a long-standing personal passion for aviation and obtained his PPL two years ago, will report direct to the Board.
Christian said: "I am delighted to be working at Cotswold Airport and am excited about what the future holds for both aviation and non-aviation business. The aerodrome has incredible potential for growth and new GNSS approach will undoubtedly change the operational face of the business."
Kemble aerodrome, Cotswold Airport, is home to a growing General Aviation community
Kemble aerodrome, Cotswold Airport, is home to a growing General Aviation community with at least five flying training organisations, as well as a host of other successful businesses. Kemble Air Services Ltd, the owners of Cotswold Airport, say that they are committed to making Kemble one of the finest airfields in the country without spoiling the natural charm of the 532-acre site.
Much of the impetus for the resurgence of Kemble followed the acquisition of the airfield from the Ministry of Defence by Ronan Harvey and a consortium of local businesses in March 2001 and Kemble now has a thriving business park for both aviation and non-aviation companies. Ronan's company Kemble Air Services Ltd (now managed by his daughter, Suzannah Harvey) operate the airfield and manage the whole site.