UK regional airline Flybe has Flybe has opened applications to join the airline flying the airline's ATR72 and Bombardier 8 Q400 aircraft on routes between UK and European destinations.
Flybe claims to be the largest independent airline in Europe, carrying eight million passengers a year between 71 airports across the UK and Europe, with over 189 routes across 12 countries.
The airline has approximately 2,400 employees. The airline has a fleet of 75 aircraft, including over 50 Dash 8 Q400s, 11 Embraer 175s and four ATR 72-600 aircraft operated for Scandinavian airlines.
Candidates will be selected and mentored by Flybe on its 'Airline Pilot career programme', in partnership with L3Harris.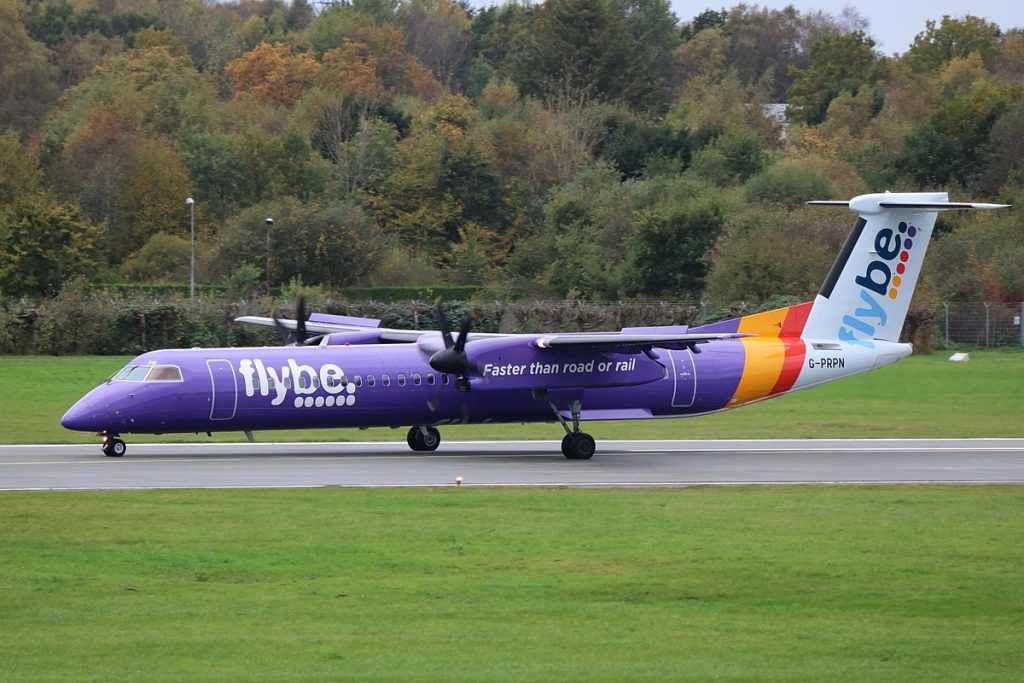 The training route will train successful applicants via a Multi-Crew Pilot Licence (MPL), directly to the role of First Officer with Flybe flying the Q400 or ATR 72.
Basic application criteria include:
• Be aged 18 or over to commence training (by course start date).
• Minimum height 5' 2" (157cm) with maximum of 6′ 03″ (191cm). Those exceeding the maximum height can still apply but may be required to undertake an ergonomic assessment.
• Hold a minimum of 4 GCSEs (or equivalent) Grade 4/C or above – must include Mathematics, Science and English Language. Be fluent in English (verbal and written)
• Be able to obtain an EASA Class 1 Medical without restrictions.
• Have the right to live and work with unrestricted access across United Kingdom, EEA, European Union or Switzerland.
• Produce a Criminal Record Check (CRC) Basic Disclosure certificate before training can commence.
• Be fluent in English, both verbal and written. Non-native English speakers must achieve at least Level 5.5 in all sections of the IELTS prior to the start of training.
• Pass the L3Harris selection process which gives the cadet pilot access to the L3Harris Training standard
There will be a three-stage assessment process. Successful applicants will be invited to sit four online assessment tests (2x aptitude and 2x behavioural) at a cost of £40.00.
If successful, candidates will be invited to a one day selection event at the L3Harris Southampton Academy or London Training Centre at a cost of £255.00. Successful candidates will then be invited to an interview with Flybe in Exeter.
The course itself lasts 21 months, commencing with 29 weeks of ground school in the UK or New Zealand, followed by a 'core training module' in single engine aircraft in the UK, Portugal or New Zealand.
The following Basic Training and Intermediate Training modules take place in the UK, culminating in Advanced type training on the Dash 8 Q400 aircraft at Flybe's Exeter base, during this phase cadets will be offered a Type Rating course on the Q400.
On joining Flybe, career prospects are said to include progression to Command within four years; a move from turbo-prop to jet aircraft; becoming a trainer or join the Flybe management team; and employee rewards including Private Medical Insurance, competitive pension and staff travel.
The course cost is £88,000. This fee includes training equipment, air travel (if applicable) and licence fees, but excludes accommodation and living expenses.
Full details of the programme and the on-line application can be found at:
https://www.l3commercialaviation.com/airline-academy/easa-pilot-training/easa-pilot-training-courses/flybe-mpl-airline-pilot-career-program/