Recent News From
All Categories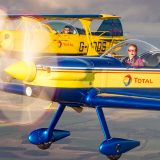 Ultimate Aerobatics are extending their deadline for aerobatic scholarship...
Popular News
All Time
Iberia partners with FTEJerez

Liz Inwood Taildragger Scholarship receives £1,500 donation

Once in a while we allow some of the inmates at FTN Towers to climb on to their soap box and get something off their chest. Normal service will be resumed in the next issue…

Diamond Aircraft acquired by Chinese Wanfeng Auto Holdings Group

Discovery Aviation Launches Advanced XL-2 Aircraft

Stoflight order ALSIM FNPTII

I, Robert A week can be a long time in politics, a lifetime in Silicon Valley, but rarely a significant period of time in the aerospace industry. Sometimes, however, there are exceptions. Around...