Recent News From
All Categories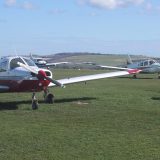 UK CAA announces all Registered Training Facilities, RTF, to convert to...
Popular News
All Time
Benjamin Pilgrim awarded Vintage Aircraft Club 'Liz Inwood taildragger scholarship'

International Aviation Academy – Norwich – is officially open

Anyone remember the Dukes of Hazzard?

New aircraft arrive for UK military flight training

Recovering Aviation UPRT is valuable and necessary. At the same time it highlights some deep issues for the future of piloting

Where is the next generation of pilots? (Part 2)

The Vintage Aircraft Club 'Liz Inwood Taildragger Scholarship' for 2017 has been awarded to Benjamin Pilgrim, a 25 year-old who currently flies from Liverpool airport where he is training to be a...